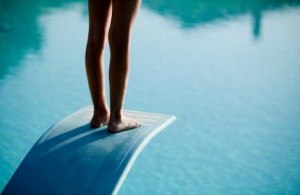 Before taking the jump.
You need to build your platform.
You know the tools you will need.
A blog, a web site, social media, facebook ™, google plus ™, twitter ™, linkdin ™, etc.
But what are you going to say, how you going to say it, and where are you going to say it?  Soapboxes work but no one is looking up to you when you bark on the street corner.  But build you a solid high dive platform, walk out to the end, prepare to jump, and . . . .
That is what I mean by a platform.  Questions, questions, questions:
How do you start?  Well, you can employ the serendipity method and learn by trial and error.  Or, you can learn from another's mistakes.  I suggest the former.
Where do you go?  Start with Michael Hyatt.  That is my suggestion.
Then, here are two critical things you should do.  No, three critical things you must do.
First, go and read Michael Hyatt's  blog at MichaelHyatt.com  
Second, subscribe to his podcasts.
Third, buy his book.
Oh, did I say three?  Well, how about four.  Attend Platform University.
Why do all this since you are highly educated and motivated professional who has already succeed in a competitive world?  Because, all of us can do better.
"A smart man makes a mistake, learns from it, and never makes that mistake again. But a wise man finds a smart man and learns from him how to avoid the mistake altogether."
Roy H. Williams
The book says it all.  Helps you to mold the message, fold the medium, and make gold from the momentum.  Buy the hard copy or the digital copy, but buy it buy all means.  A builder builds best when he has well designed plans to follow.  Here's the plan.
Michael Hyatt is the author of the New York Times bestseller, Platform: Get Noticed in a Noisy World (Thomas Nelson). It is also a Wall Street Journal, USA Today, and Amazon bestseller.
Recent Articles
Jury Selection The objective of jury selection is not to win your case, but rath

When you are hurt in a car wreck, you will be facing an experienced and well-arm

Before taking the jump. You need to build your platform.