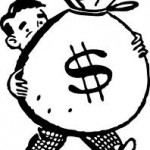 Hate to continue coming down hard on the large law firms full of suits and formerly the darlings of corporate America for their billing to the tune of "churn baby churn", but the bottom line is that it's just like a line out of the movie "The Firm".
Worse than that is the fact that the appearance of overbilling is just as bad as actual overbilling since the claim is easily believed and instantly the object of derisive jokes.
And, let us not forget the collateral consequences that the small firms and solo practitioners out there who are managing their work, their business, and their ethics within the bounds of the law may be thrown into the same pot.
And that is totally unfair.
Some lawyers openly profess a leadership style that you can't teach hungry.  Hunger is a basic need for survival, but without professionalism it can become greed.  And greed can be inculcated, learned, and embraced without the proper doses of professionalism and service.
It's not what you take from the law that is important, but rather what you give back.
You can't teach hunger, but you can control it, put it in a cloak of professionalism, and slap on some public service, and darn it, you get a lawyer!
Here is the response from the firm on our earlier story which begs the question of "who was watching the store?" or "where were the supervising attorneys?".
Did the remarks go unheard, the billing overlooked, unseen, unnoticed?
Now where are all those chamber of commerce and tort-reform advocates who should be criticizing this practice which is a more likely reason for the high costs to business and insurance rather than attorneys representing those hurt and harmed by the negligence of others.
DLA Piper issues memo about legal fee controversy  3/27/2013

The memo said that a series of emails written by former DLA Piper lawyers about the law firm's billing practices had been "an unfortunate attempt at humor by three former lawyers of the firm."
And for our earlier stories: