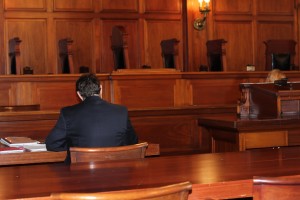 There is a quote from The Power of One by Bryce Courtenay that came to mind when I came across this photo I took back on August 14, 2012 when Diane and I went to Frankfort to watch oral arguments in cases re-examining and applying the new decision in McIntosh v. Three Rivers Medical Center.  The quote is
"It's good to be a little frightened. It's good to respect your opponent. It keeps you sharp. In the fight game, the head rules the heart. But in the end the heart is the boss."
I had almost forgotten what it is like when you see that one person, that one individual, that one lawyer facing a challenge in a venue he or she had not been before.  You have only one first argument, one first appearance, and one first chance at Kentucky's highest court – The Supreme Court of Kentucky.
We relish that cause and the exhilaration it brings, but along with the rush is that pit of fear in the bottom of your stomach.  Because you are in new territory that no amount of preparation or assistance can guide you.  Because when you walk up to the table on the other side of the bar with nothing between you and the bench that in a matter of moments will be filled by seven justices of the Supreme Court, you are no longer practicing with the net.  Your family, friends, and fellow attorneys are behind you, but behind you on the other side of the bar.
Here is a repost of my remarks on the Kentucky Court Report back then.  I read them again tonight.  It made me feel good to remember that the practice of law is oftentimes the power of one, and that one can change the life of a client, change the law, and thus change the lives for thousands of people who will never know what he did.  Should attorney Brad Slutskin who is the lawyer in this photo prior to his argument prevail, then he will know.  However, I have done this post as a reminder for him and others that I know.  I know regardless of the outcome, or the result, or the decision.  I know, his wife knows, and now you know.  Brad made the good fight for his client.  Or as my dad would say, he done good.
Last week, Diane and I, went up to the Kentucky Supreme Court to hear the arguments in the two cases addressing the post-McIntosh world of "Open and Obvious" in premises liability.  We were providing some emotional support for both plaintiffs' counsel making their first appearance – Brad Slutskin and Joseph Pepper.

The cases were Dick's Sporting Goods v. Webb  and Shelton v. Kentucky Easter Seals Society, Inc.  The issue was the same in both cases -  whether summary judgment for the defendant was granted properly under Kentucky River Medical Center v. McIntosh, 319 S.W.3d 385 (Ky. 2010).

All counsel were well-prepared and ready.

However, I took the above picture of Brad Slutskin in the quiet moments before the seven justices entered and arguments would begin.  An awesome responsibility, and after all the work, all the preparation, all the assistance from others, it is at this moment, this point in time, when it is you and you alone shouldering the hopes and needs of your client.  That folks, is what trial law is all about.  BTW.  Brad done good.  His wife was all smiles at the end too.  We sometimes forget that as lawyers we die just one death in the arena, but our loved ones watching from outside the bar die a thousand deaths with every breath, every word, every question.

And when it was all over, the counsel representing the plaintiffs in the underlying cases and making or assisting in the arguments and briefs had a quiet moment with a smile and a sense of relief.

As soon as I am sure who is who and have their correct and complete names, I will supplement this post.

I did this post as a reminder to myself and others that behind the dry legal principles at stake are the lives of those who have been deeply involved, litigants and lawyers alike, whose lives are affected and changed by these events.

After this was posted, I was reminded that Melissa Ann Wilson who argued on behalf of Cardinal Hill Hospital was making her first appearance before the Supreme Court, as well.  My wife and I spoke with her, and she was friendly, graceful, and more importantly for her client, she was well prepared and articulate, holding her ground and answering the questions.  I had no idea this was her first time.